EmbedSocial: A User-Generated
Content Platform
EmbedSocial is a review management software with a user-generated content platform that collects, manages, and displays social media reviews, stories, or photos and embeds them on your website.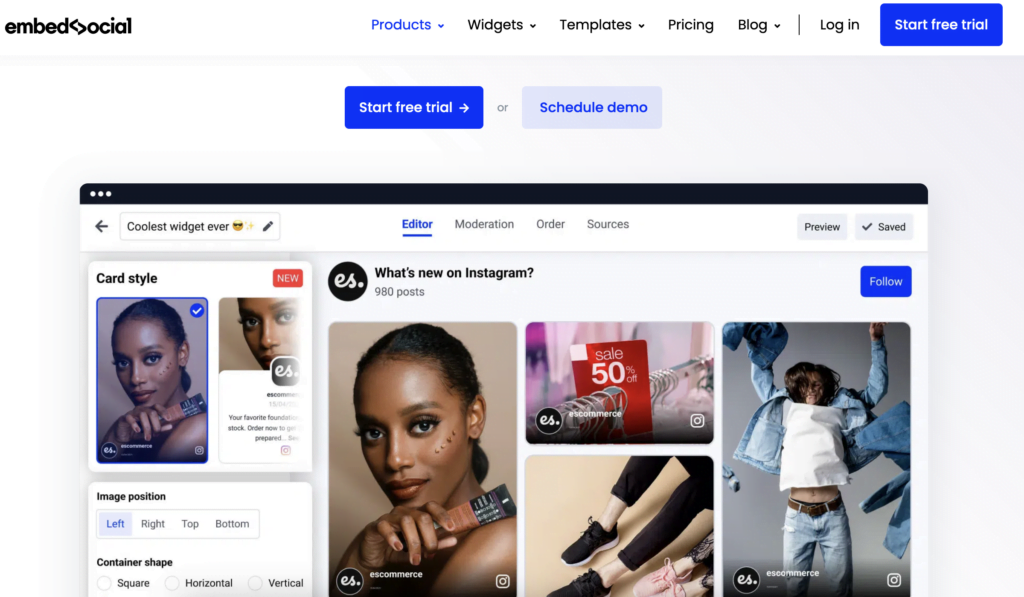 What is EmbedSocial?
EmbedSocial is a User-Generated Content Platform (UGC) and a web tool that collects social media feeds, reviews, stories, or photos and embeds them on websites. They gather content from social media networks such as Instagram, Facebook, TikTok, Google, Twitter, Vimeo, Yelp, and YouTube.
EmbedSocial is a web tool allowing you to embed any type of content from these networks on your own website or blog.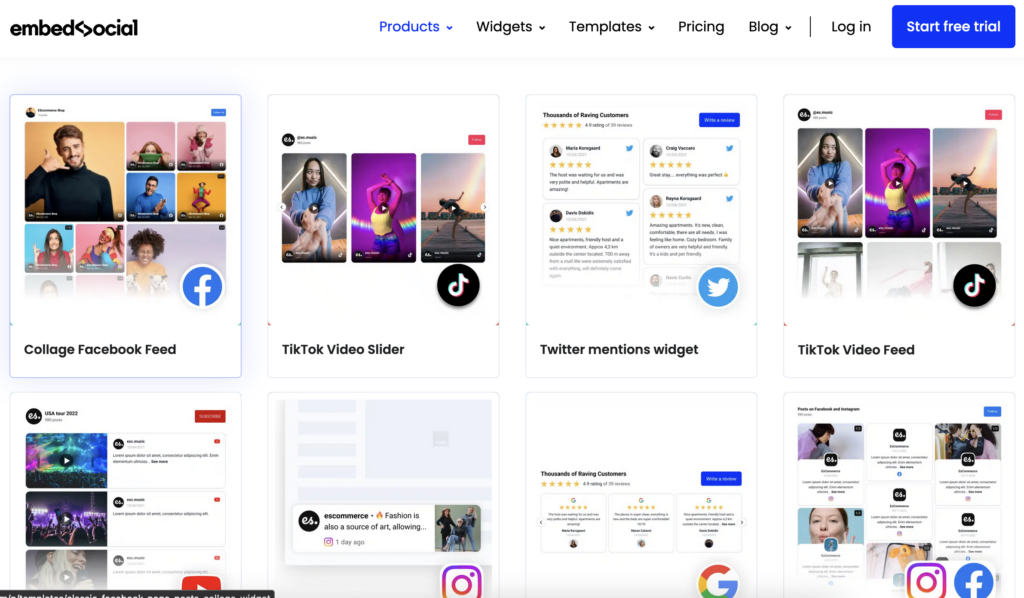 They have a library of templates that make the whole content generation process fast and easy. The widgets look clean and add social proof when added to your site.
Who is EmbedSocial for?
EmbedSocial.com is for freelancers, large enterprises, mid-size businesses, and small businesses. They are a social proof platform that enables agencies, businesses, and marketers to aggregate all their social media content. You can store, moderate, analyze and publish user-generated content widgets in real time on any WordPress website.
Its easy-to-use interface makes it perfect for brands of all sizes—from big companies to smaller businesses, local businesses, and entrepreneurs who want to build additional content quickly and easily.
EmbedSocial Cost and Pricing
(Pricing model evaluation: March 2023)
EmbedSocial has 5 products: EmbedFeed, EmbedForms, EmbedReviews, EmbedStories, and FeedLink
Each product has a different pricing range. They offer a free plan for 7 days getting all features from any of their product.
EmbedReviews starts from $29/month with their PRO plan. It includes 2 sources, Google and Facebook reviews, Email and SMS reviews, review forms, bulk import, and moderation and customization. Their PRO PLUS package includes the same features but with 6 sources at $49/month. Their PREMIUM package starts at $99/month with all the features and 15 sources.
EmbedSocial and Profile Rankings share some common features such as managing and collecting reviews from different sources such as Google, Facebook, and Email and SMS reviews. Both platforms have the ability to moderate and personalize reviews – giving you more control over how reviews are presented to users. With the moderation and customization features, you can ensure that only positive feedback is seen by your customers, creating a friendly and inviting atmosphere.
Many customers have raised concerns about EmbedReview's hefty price tag, the limited selection of core features, and the unsatisfactorily long wait times for customer support. We understand that cost, feature set, and customer service response time are key considerations when choosing a software solution.
EmbedSocial Alternatives
With so many amazing alternatives to EmbedSocial out there, you want to make sure you choose the one that fits your unique business requirements. From Reputation Brief and Profile Rankings to Podium, Stamped, and Reviewbot, there are plenty of options to consider—all of which can help improve your business's presence and customer reviews.
Take your time to explore each platform's features, packages, and services to determine which one is the right fit for you. With the right choice, you can easily boost your customer reviews and create an unrivaled presence in the market.
About Profile Rankings
Profile Rankings is an online reputation software — a platform that gives you the ability to customize and automate ratings and reviews from multiple sources including Google, Facebook, Yelp, Trip Advisor, Yellow Pages, Amazon, and more. By comparing performance and identifying new opportunities, you can take control of your brand's reputation. Moreover, their dashboard provides a bird's-eye view of all the reviews of your brand so you can track your online reputation score and growth in real time.
They help individuals, businesses, and global brands measure and understand the impact of their reputation on the public. Further, their comprehensive reputation intelligence and insights give you the tools to assess the trust people have in your brand.